OPPS Doctor! I fell and broke my tooth! what should I do ? – Dr. Debbie
Broken tooth might not be the first thing you'll be worried about on a daily basis but I feel everyone should know 1 or 2 facts of what to do if that happens! Social media will show you about CPR, how to fix a broken chair but not much on a fractured tooth after a fall! So let me give you a tip or two!
Let me introduce you to Mr.M , a very smart and hardworking gentleman who accidentally fell and hit his face onto a glass door while he was working.Because of that, his upper front tooth broke into half and the fractured fragment fell on the floor! The smart thing he did was to keep the broken tooth fragment and head to the dental clinic immediately.
He complained of mild pain around the traumatized area and would like the fractured tooth to be fixed ASAP as he needs to head back to work after.
Can you see the reddish part that's peeking out on the upper front tooth? That's the pulp of the tooth, it contains nerves and blood vessels. I've informed Mr.M that he will need root canal treatment in the future, but the immediate treatment would be attaching the broken fragment back onto the tooth and cleaning + placement of medication.
YES, YOU HEARD ME RIGHT.
The broken fragment can be attached back to its original position, given that if it meets certain criteria such as:

1) make sure the fragment does not have any dirt / visible soil on it
2) soak the fragment in saliva / milk suspension
3) the size of fragment is less than half the size of the tooth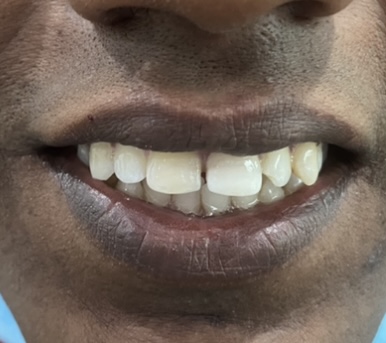 After an hour, it looked like nothing had happened before to Mr.M's front tooth! He is fully aware that he needs to come back for root canal treatment and crown on that tooth as well. However, he's happy with how his tooth look now and can get back to work immediately after!
Remember to keep the fractured fragment of a tooth next time , store it in saliva/milk suspension and head to the dental clinic immediately!
-Dr.Debbie-
---
---